Dear Friend,

Did you know that many people fear the idea of giving a speech more than they fear death? Study after study confirms that public speaking is among our greatest fears. Like most fears, however, it stems not from a real assessment of risks but from our own feelings of insecurity and a lack of knowledge. That is why I am so excited about a new ebook that can turn fear into excitement and help anyone to become a more successful and talented public speaker.
Public speaking skills are a tremendous asset. A good public speaker can distinguish himself or herself from the crowd in a corporate environment. A talented presenter can use his or her talents to promote business ventures. Those who understand how to deliver a great public speech are also uniquely positioned to make a positive impact in any area of society.
On top of that, the development of public speaking skills can lead to an increased sense of self-confidence and personal fulfillment. There is a certain satisfaction that only those who know how to use words to move audiences can understand.
Now, thanks to this amazing new ebook, you can be one of those people!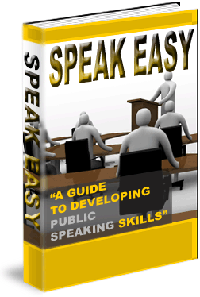 Wouldn't it be wonderful to know you are able to put together a winning speech and to enjoy the unique sense of fulfillment that produces?

Consider that for a moment. Public speaking skills can truly be transformative! They can have an influence on every aspect of your personal and social life. Career growth, personal growth and more are available for those who develop strong public speaking skills.

You have a choice. You can be one of the millions of people who dread a public speaking situation. You can again experience the shakiness and unease of not feeling truly prepared for your public moment. Or, you can master the art of public speaking. You can rid yourself of that fear and use those opportunities to advance your life!
The skills necessary to create and deliver a wonderful public speech are revealed in A Guide to Public Speaking.
In A Guide to Public Speaking, you will learn how to:
Conquer speech anxiety


Harness the power of a great opening


Use top tricks for understanding your audience


Integrate humor into your public speech


Properly usestatistics when speaking


Implement organizational hints and tips


Add the "Wow" factor to any presentation


Bring home your main points


Use body language to your advantage


Bring visual aids into focus



AND MUCH, MUCH MORE!



The trick

to overcoming a fear of public speaking and to develop the skills necessary to wow an audience

are all detailed in this ebook.
This fascinating guide can help you become comfortable at the podium and will teach you what you need to know in order to get your points across.
A Guide to Public Speaking provides you with all of the critical information you need to be a polished public speaker!
There are many reasons to develop your public speaking skills. They can jump-start a career or help you grow your business to new heights. Public speaking skills can make you a more powerful force in all aspects of communication and can fill you with a sense of accomplishment and achievement.
It's up to you, you can continue to fear public speaking or you can learn to take advantage of speaking opportunities in a way that millions of others cannot. The information that will give you a way to escape anxiety and move toward success is only $29.00.
Speak Easy "A Guide to Public Speaking"- is delivered in PDF format and is viewable on any computer. All you need is Adobe Reader which is available free and already on most computers.

But so you know that you can order this e-book completely risk free I have included my...

60 Day 100% Money Back Guarantee
Only 29.00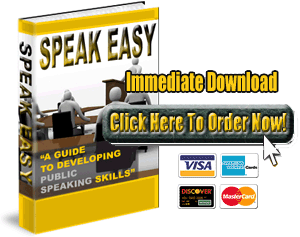 Sincerely,
www.e-wia.com

P.S Remember by applying the principles covered in this amazing ebook you can really experience what it is to be a great public speaker. No more fear, no more problems, just you and success.

P.S.S You have a full 90 days to get 100% of your money back if you are dissatisfied in anyway.